Microsoft Certification

The certification given by Microsoft to validate the knowledge of the consulting teams as well as the customer references where it is deployed technologies. In addition they do not give access to the best technological resources that are applied in our customers. We not only got the highest certification (Gold) in scenarios of cloud and devices, but expand on it with the advanced specializations of Migration of Windows Server and SQL Server to Microsoft Azure oriented migration and optimization of workload-based services, data centers, and the advanced specialization in Adoption and Change Management we certify our work with users in scenarios of adoption of new services and behaviors, as in the case of Microsoft Teams.
Quality policy
Prism Technology Solutions is a consulting services company with over 18 years of experience, specializing in digital transformation, systems management and productivity in the cloud. To meet the needs of our customers, we make the following commitments: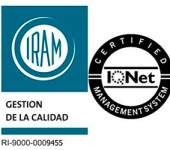 We prepare our "services, digital transformation, data center management and optimization of information systems" certificándolos in quality ISO 9001:2015. With our proposal we impact thousands of users and hundreds of data centers, therefore, we are one of the companies that is taking place with greater emphasis and effectiveness of the digital transformation in different types of organizations in both the public and private sectors in Argentina.